Asta Pakarklytė and Rūta Stepanovaitė attend Summit on Culture in Stockholm
17 May 2023
Chairwoman of the Lithuanian Council for Culture Asta Pakarklytė and Administrative Director Rūta Stepanovaitė attended the 9th World Summit on Arts and Culture in Stockholm. The meeting was organised by the International Federation of Arts Councils and Culture Agencies in cooperation with the Swedish Arts Council. This year's conference focuses on creative freedom and aims to unlock the power of culture through cooperation and dialogue in an international context.
The Lithuanian Council for Culture — member of an international federation
The World Summit on Arts and Culture was organised by the International Federation of Arts Councils and Cultural Agencies (IFACCA). The Lithuanian Council for Culture has been a member of the Federation since 2014. Therefore, the first two days were dedicated to closed sessions of arts councils and similar cultural funding organisations, with representatives from nearly 40 countries.
"The diversity and collision of different contexts are overwhelming when you have the opportunity to interact, in a very concentrated period of time, with the heads of cultural funding institutions from Ukraine and Canada, Finland and Zimbabwe, Latvia and Uruguay. It is a unique space for reflection where you can interact with arts councils in other countries and consequently begin to better understand your own, you learn to critically analyse and evaluate the situation in a broader context. And despite all the differences in funding institutions, you still feel like you are in a group of like-minded people who share the same goals," says Chairwoman Asta.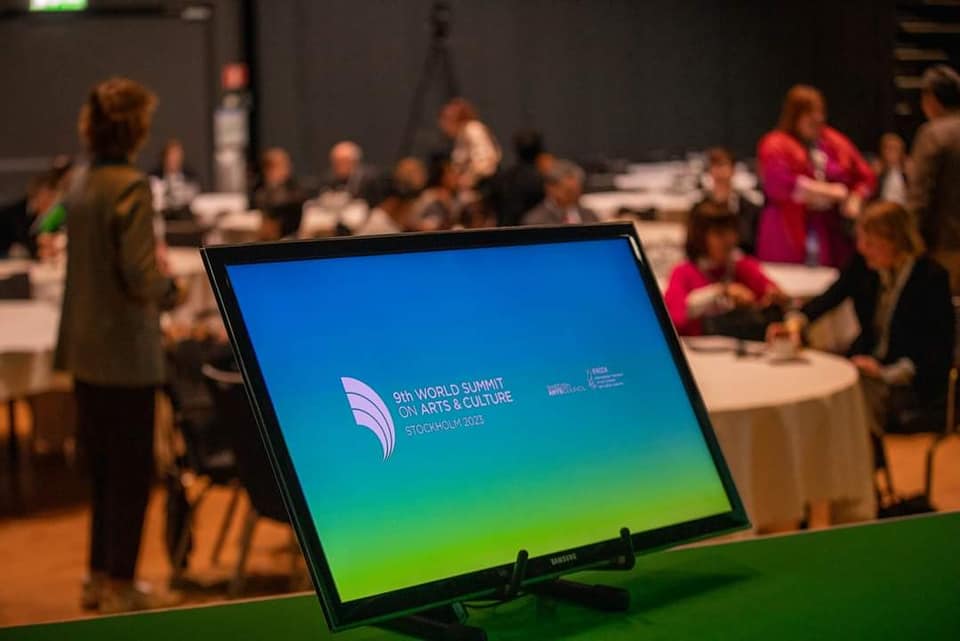 9th World Summit on Arts and Culture in Stockholm. Susanne Kronholm photo
"I ran out of room in my notebook trying to capture everything I've experienced. For example, Finland is investing half of its fund in scholarships, while we are only investing 8%, and Latvia has just recovered the automatic deductions for the cultural fund from the tax on alcohol and tobacco promotions, lotteries and gambling, which we abolished at the level of the Constitutional Court a couple of years ago. The National Arts Council of Zimbabwe is trying to count, formalise, and bureaucratise culture as the current situation is so informal that it makes it impossible to take action. But the arts councils are now mostly focusing on Canada, which has embarked on a major change with the doubling of funding," Asta says.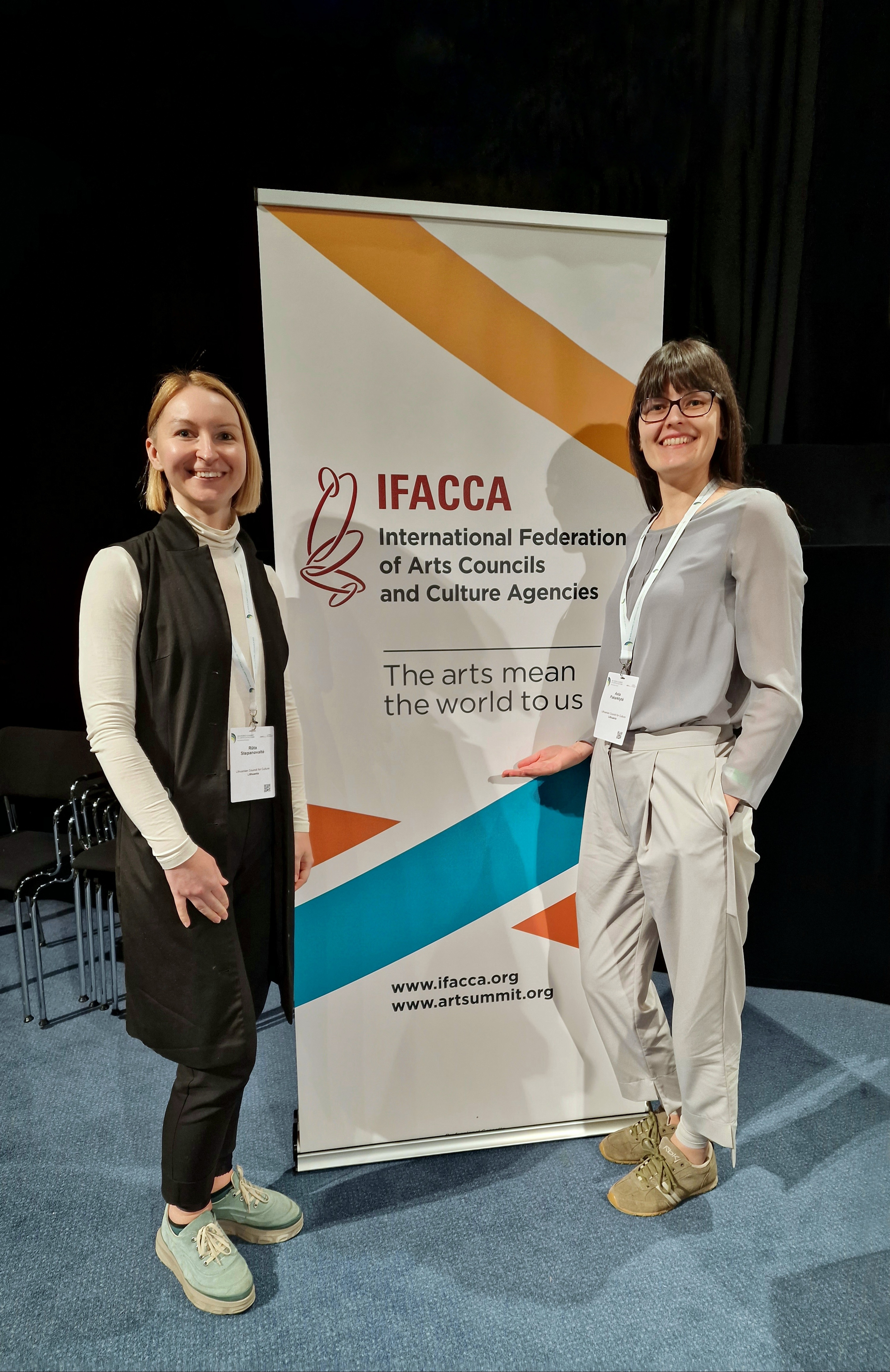 Rūta Stepanovaitė, Asta Pakarklytė, 9th World Summit on Arts and Culture in Stockholm
Creative freedom — the foundation of democracy
The 9th World Summit on Arts and Culture brought together over 400 cultural policymakers and implementers, researchers, arts and culture practitioners from nearly 100 countries. The three days of the Summit were packed with presentations, plenary sessions, public debates, and workshops, full of valuable insights, inspirations, and different experiences. The speakers discussed the topic of artistic freedom in different contexts and pointed out that creative freedom is not only a fundamental basis for a strong cultural policy but also an essential aspect of democracy, self-expression, and human rights.
The Summit was filled with conversations about the means and reasons to protect and strengthen creative freedom in the world, especially in the context of the current Russian invasion of Ukraine. The participants discussed the need for artistic freedom to be widely recognised and accessible, based on freedom of expression and the right to participate in cultural life.
"Director of the Ukrainian Cultural Foundation Vladyslav Berkovski was also present in Stockholm. We talked every day. Although the war in Ukraine was mentioned in probably every official opening speech, I couldn't stop thinking that outside Estonia, Latvia, Czechia, Slovakia, and Croatia, COVID-19 was the biggest shock to hit Europe in recent years. Of course, there have been exceptions. For example, Canada — home to the largest Ukrainian diaspora in the world. Vladyslav and I tried to explain to some foreign colleagues that Russia uses culture as a soft power, as propaganda, as a political tool, as a weapon that we are trying to defend ourselves against, but it was mostly met with silence, people were not sure how they should respond," Asta said.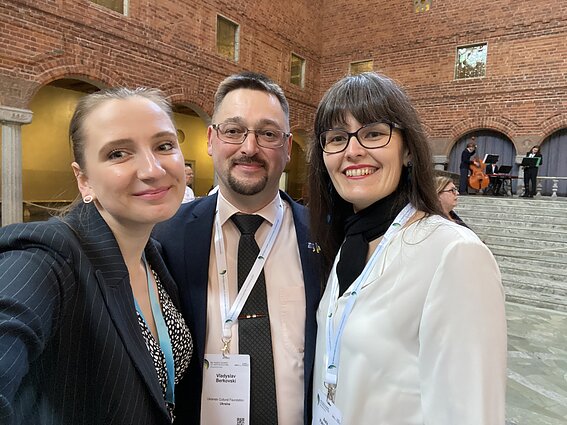 Indrė Kaminckaitė, Vladyslav Berkovski, Asta Pakarklytė. 9th World Summit on Arts and Culture in Stockholm. Indrė Kaminckaitė photo
A cultural ecosystem needs creativity and freedom
The conference had detailed discussions on the links between the rights and responsibilities of creative freedom and the ways to use artistic freedom to create opportunities and enhance them. Speakers and participants shared success stories and the challenges they managed to overcome in their attempts to empower and engage the cultural and CCI sector in the age of culture wars and rising nationalism. It also looked at how to harness technology and innovation, create sustainable solutions in the cultural sector in the context of the climate crisis, exercise freedom of expression in the age of social media, foster creativity, and find non-standard solutions.
The last day of the Summit focused on inspiration and reflection. The participants discussed the tools that could be used to create a vibrant future for culture and art in local contexts, the solutions and tools that could be adapted at the international level or translated into local reality. The Summit offered some time for open discussions and plenary sessions on the relevance and sustainability of culture, change and challenges, and cooperation to build a global cultural ecosystem rich in creativity and artistic freedom.
"International formats like this are a good opportunity to take stock not only of what is happening around the world but also to 'take the temperature' of the context in which we operate. What is the view of Lithuania in terms of its policies on creative freedom, protection of creators, individual responsibility, or community empowerment? The many conversations I've had over the five days made me realise that our country stands somewhere in the middle. There's still room for discovering new or improving existing formats, themes and diversity of activities, but to do that, we need more than political will and vision, we also need the maturity of society. On the other hand, as a country that has regained its independence relatively recently, we are clearly on the fast track, adopting best practices very quickly and able to participate fairly evenly in the exchange of experience and knowledge with other countries. I, personally, found the conversations that developed outside the topics of the conference — conversations about the challenges facing arts and culture councils around the world as they work to fulfil their mission — important. Many councils and foundations face high demand for funding creative ideas, and, sometimes, opening new programmes is not enough to introduce new funding models. It requires a lot of effort working with politicians and municipalities and introducing ideas, or working with creative communities to ensure the involvement and responsibilities of their members. It also calls for, for example, new administrative teams and entirely new staff competencies. And these changes are resource-intensive. I would hope that the connections established in Stockholm would continue to grow and strengthen and that discussions on the important issues like funding for culture and the arts and the challenges of administering them would be held more frequently than just once a year," says Rūta.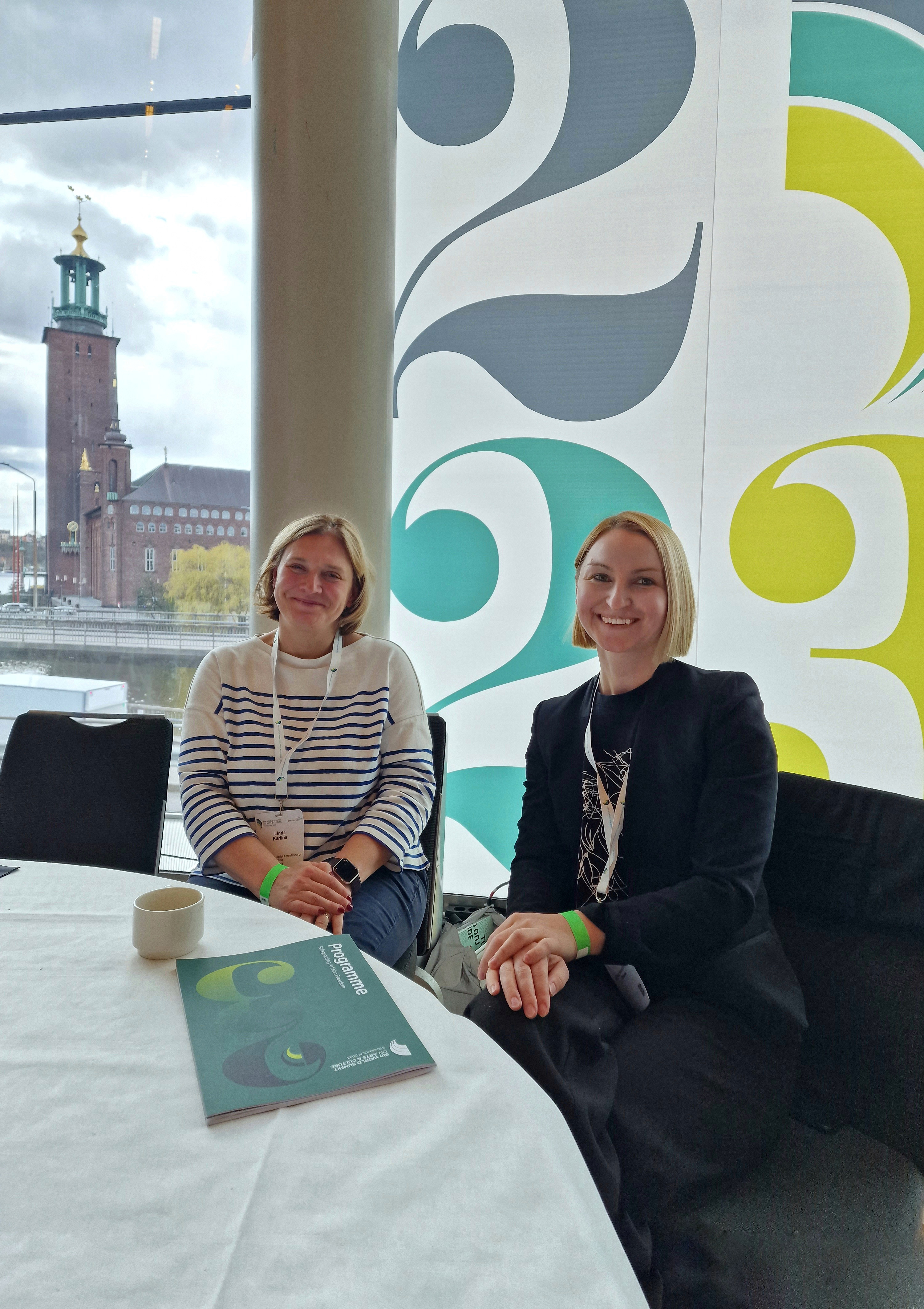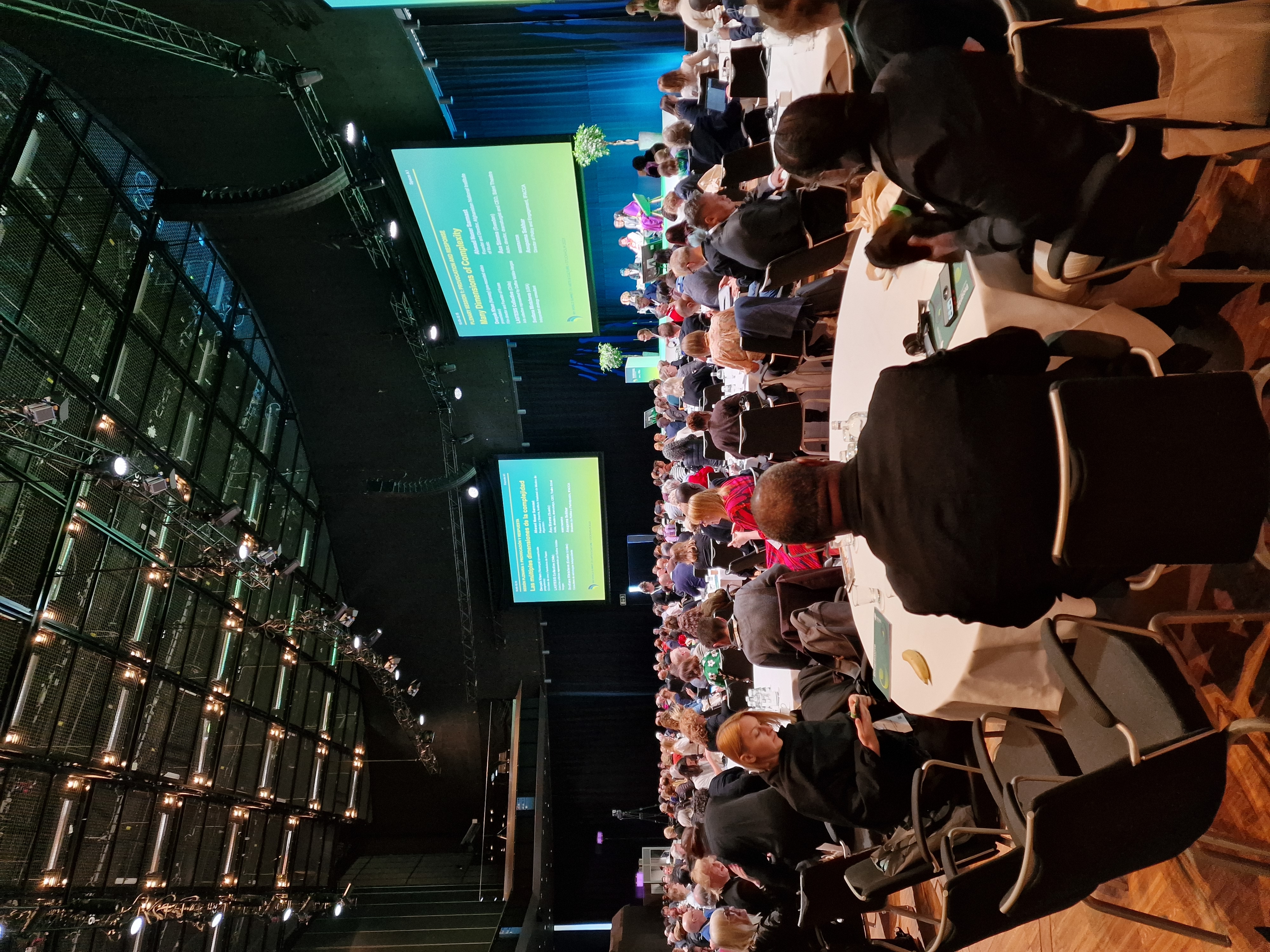 Linda Karlina, Rūta Stepanovaitė. 9th World Summit on Arts and Culture in Stockholm