EUR 240,000 allocated for the creative activities of Ukrainian artists in Lithuania
16 January 2023
Since April 2022, the Lithuanian Council for Culture (LCC) has allocated nearly EUR 240,000 in funding for 133 Ukrainian artists who have found refuge in Lithuania. The LCC received a total of 168 applications from Ukrainian creative professionals. The purpose of the grants is to support the creative activities of artists and promote cooperation with the Lithuanian cultural community. The next round of grants for creative professionals from Ukraine is planned to be announced in 2023.
Successful cooperation between Ukrainian and Lithuanian artists
The LCC is pleased that in Lithuania, Ukrainian creative professionals have managed to find numerous cultural organisations for cooperation that have provided the support and assistance they need to implement their creative ideas. These artists are contributing to projects that the organisations had already begun implementing, and have become a part of the cultural community and made acquaintances with professionals from different disciplines of art. The Ukrainian artists have also organised cultural activities for Ukrainians living in Lithuania, brought together local communities of creative people, and created joint Lithuanian and Ukrainian art projects, thus developing cultural ties between the two countries.
Ukrainian creators have been involved in a wide range of activities, including acting in shows, writing plays and taking part in performances and rehearsals, holding "evening with the artist" events, organising master classes, educational courses and workshops, making Vytynanky (paper cut art), and participating in competitions and master courses. Lithuania's scenery served as a source of inspiration for them, with images of the Vilnius Old Town and the seascapes of Palanga on display in exhibitions. Ukrainian artists have presented their work to the general public in various cities and towns across Lithuania.
The cooperation between Lithuanian organisations and Ukrainian artists initiated by the LCC and the Ministry of Culture has been extremely successful. With Ukrainian creative professionals applying for grants, the contributors that were the most avid and helped the largest number of applicants were the Menų Zona (Art Zone) association along with the Klaipėda branch of the Lithuanian Photographers Association, the Kaunas Cultural Centre of Various Nations, Alytus City Theatre, the Old Theatre of Vilnius, the National Museum of Lithuania, the Lithuanian National Museum of Art, and the Ukrainian Cultural Centre in Vilnius, which opened its doors this past June.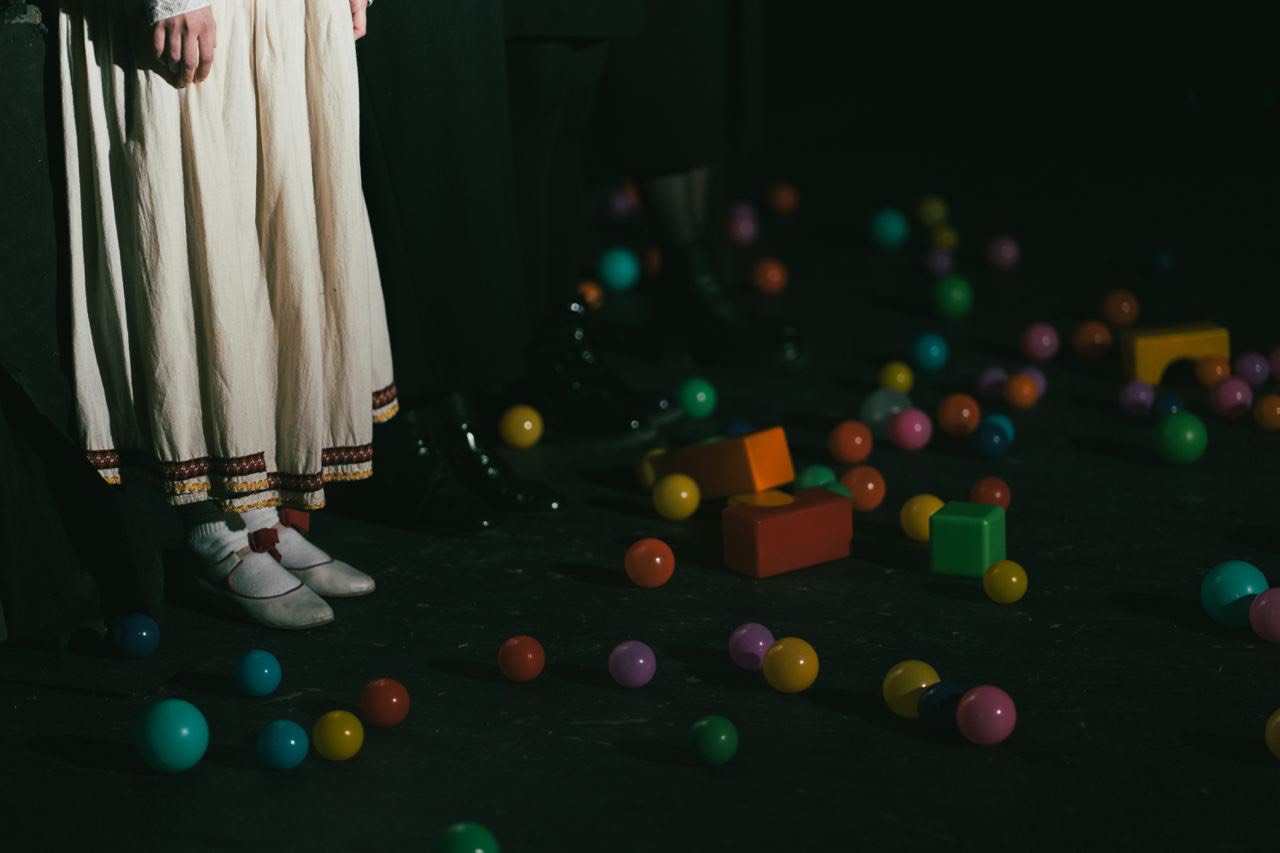 Ukrainian actress Liliya Kozub took part in "Spektaklis, kuris neįvyko" ("The Play That Didn't Happen"). Photo from personal archive
Art against the backdrop of war
The Ukrainian artists touched upon the painful subject of war, with the echoes of the war in Ukraine and the relationship between man and war reflected in their work. The artists say that it is important for them to show what terrible things are happening in Ukraine, what people and families who had to flee from the threat are going through, and what traces the war leaves in people's minds and lives.
Graphic artist Natalia Didenko implemented a project entitled "Art in a Time of War" featuring 15 pieces of Vytynanky (paper cut art) from the "War Album" series. Ms Didenko says that she met with the cultural community, led workshops and lectures about paper cut art, and performed works by Lithuanian and Ukrainian composers. Photographer Svitlana Romanenko opened a photo and video exhibition entitled "Phantom Families of Real War" that depicts the lives of Ukrainian families who came to Lithuania to seek refuge after the war began in their homeland.
Artists Iryna Pohorielova and Viktor Pohorielov convey tragic events in their works with symbols and signs. They say that the "KHARKIV'22.02.24" exhibition is the comprehension of a new reality – the existential drama of the Ukrainian population; an attempt to understand what is happening. "People are looking for the meaning of life even in the most brutal and inhuman war situations – they are looking for something that will help them stay human," the artists say.
Ukrainian actress Liliya Kozub took part in Spektaklis, kuris neįvyko ("The Play That Didn't Happen"), a play directed by Andrius Darela at the Old Theatre of Vilnius. This was dedicated to the premiere of the play Marusia Churai, which was supposed to take place at the Donetsk Academic Regional Drama Theatre in Mariupol but never happened due to the tragic events in Ukraine. During the performance, the actress read excerpts from the diary of Mariupol journalist Nadia Sukhorukova that were written as the city was being bombed, conveying the authentic stories of the residents. Ms Kozub says that this performance is especially important for her personally, because viewers can see with their own eyes what terrible things happened in Mariupol.
Ukrainian actress Liliya Kozub took part in "Spektaklis, kuris neįvyko" ("The Play That Didn't Happen"). Photo from personal archive
Actresses Svetlana Zelbert and Kateryna Vyshneva performed in Dawn of the Gods, a documentary play directed by Vladimir Gurfinkel based on the story of director Mantas Kvedaravičius and his fiancée and collaborator, Hanna Bilobrova. The Old Theatre of Vilnius showed this performance in the 76th Festival d'Avignon programme, and it was the only one that touched on the topic of the Ukrainian war. So by cooperating with Lithuanian cultural organisations, artists from Ukraine were able to talk about important topics both in Lithuania and elsewhere in Europe.
Painter and graphic artist Kateryna Kononenko presented her work at the Sugihara House. The pieces featured in the "Passion for Living or Fear of Dying?" exhibition are like a bridge connecting different countries that understand the importance of war, pain and mutual support. Pianist Yana Serbina says that the LCC grant that she received allowed her to prepare for the Ohrid Pearl competition in North Macedonia, as well as to improve her skills in master classes after the creative pause she was forced to take due to the war in Ukraine. Ms Serbina claims that these activities allowed her to gain more confidence in herself and her work, and helped her understand what opportunities she has as an artist and how to better use them.
Photographer Olesia Saienko implemented "Reflections on Repressions", a project where she searched for archival photos of families and relatives who had experienced repression and reproduced them in the project's diptychs. Ms Saienko says that it is difficult to find families and surviving photographs, because Russia destroyed not only people, but also the evidence of their existence in order to hide its crimes.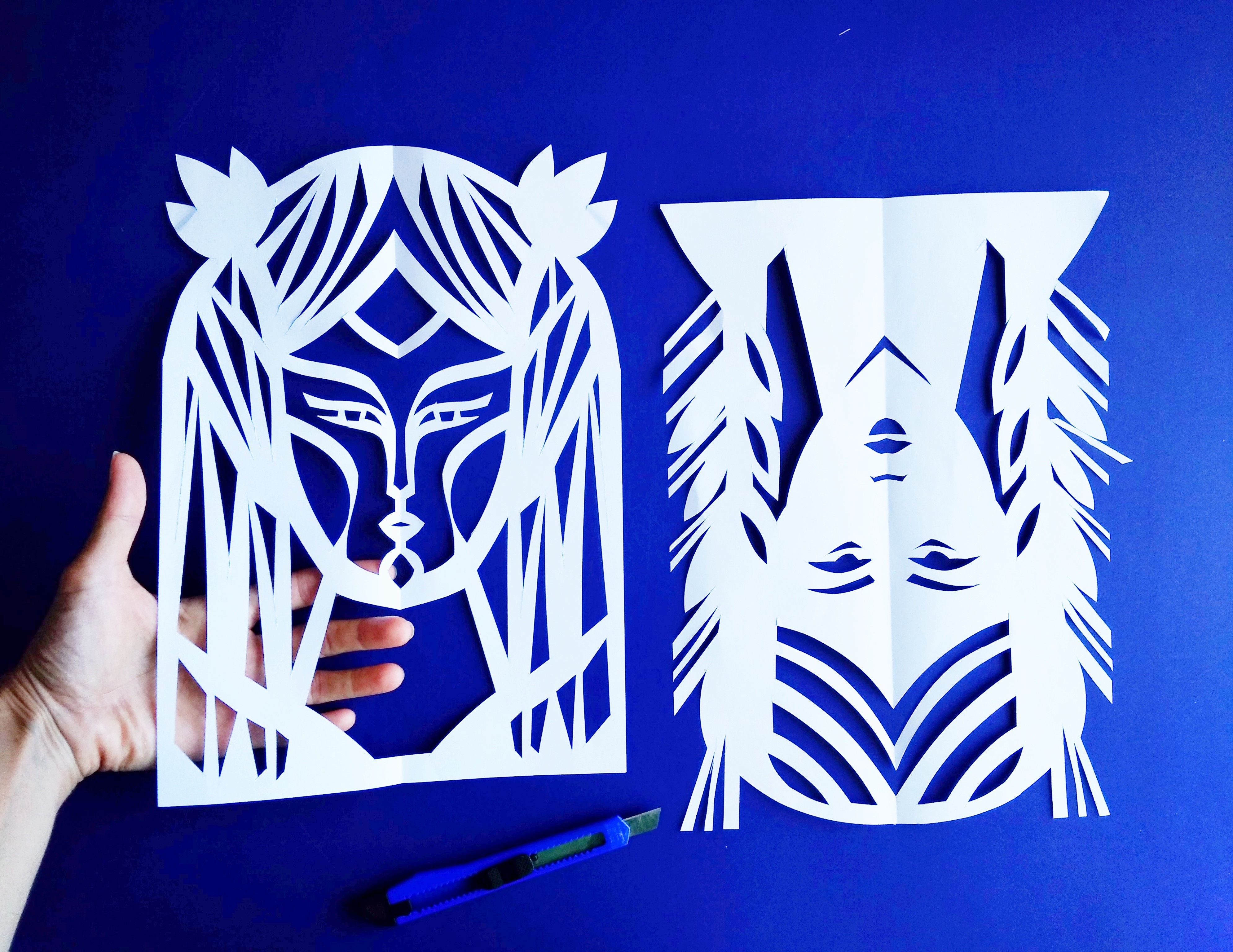 Project of Natalia Didenko "Art in a Time of War". Photo of Natalia Didenko
Expression of solidarity with Ukrainian creative professionals
With the creative ideas that they implemented, Ukrainian artists introduced Lithuanian society to Ukrainian culture, as well as to the similarities between the Lithuanian and Ukrainian cultures. During the project that writer Yana Vovk implemented, she looked for Lithuanian and Ukrainian artists who preserve and enrich folk traditions, but works with contemporary art forms. "Lithuanians and Ukrainians are close in their desire for freedom, their love for their native language, and their preservation of traditions and cultural heritage," said Ms Vovk. The preservation of culture and heritage during Russia's war against Ukraine is one of the most important aspirations in preserving Ukrainian identity.
Ukrainian opera soloist Olena Sleptsova, who fled the war in her native country, is working at the Juozas Gruodis Conservatory in Kaunas, where she held "Pavasarinė šypsena lietuviško vėjo dainoje" ("A Spring Smile in the Song of the Lithuanian Wind"), a concert that featured Ukrainian and Lithuanian folk songs and classical music. Artist Olena Sadokha (Elenos Adhikari) opened "Kaunologija. Pokyčio taškas" ("Kaunology. A Point of Change"), an exhibition of paintings and mixed media (painting and photography), often combining the presentation of her work with the concerts of the esteemed Ukrainian opera soloist Olena Sleptsova or other events dedicated to Ukraine.
Hanna Abramova has brought the Ukrainian community of Kaunas together with her musical activities, which include organising singing lessons, putting together new Ukrainian duets and quartets, and holding concerts featuring the creative works of Ukrainians, thus thanking the people of Lithuania for their support to Ukraine. National Opera and Ballet Theatre of Ukraine soloist Kseniya Bakhritdinova-Kravchuk teamed up with the Lithuanian National Opera and Ballet Theatre to hold concerts of Ukrainian and Lithuanian folk songs throughout Lithuania. The idea behind the concert was to give meaning to the connection between the countries – to share it with listeners through music – as well as to support the talented Ukrainian singer.
The LCC grants enabled creative professionals to present Ukrainian culture and art, spread information about Ukraine, become a part of the cultural community in Lithuania, implement creative ideas, and bring together Ukrainians in the country and get them involved in cultural events. We hope that the grants helped Ukrainian artists establish strong partnerships with organisations that will continue in the future, and that the Lithuanian public will have the opportunity to become more familiar the work of Ukrainian artists, Ukrainian culture, and interesting and unexpected connections and things in common with Lithuania. The next round of grants for creative professionals from Ukraine is planned to be announced in 2023.